PUBLIC AUCTION
SATURDAY, AUGUST 26, 2023
10:00 A.M.
LOCATED AT:
710 MCREYNOLDS ST., DANVILLE, IL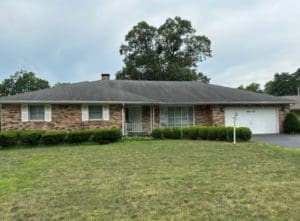 REAL ESTATE: 9 room, all brick Ranch home with 2200 SF living area, consisting of 3 Bedrooms, Family room, Dining room, Living room, Laundry, Kitchen, etc. with 1857 SF unfinished basement and a 2 car attached garage.  Home has almost new walk-in tub plus 10'X16' Sunroom.
TERMS:  10% down payment on sale day upon signing formal contract.  Balance due at closing, on or before September 26, 2023.  Buyer must have pre-approval for financing as down payment is not refundable.  Your bidding is not conditional upon financing.  Seller reserves the right to reject any and all bids.
PERSONAL PROPERTY:  There will be a personal property auction of about 2 hours starting at 10:00 A.M.  Good, quality, clean items.  Oak dinette w/ 6 chairs, almost new couch, china cabinet, side chairs, curio cabinet, new hospital bed, Saladmaster pans and kitchen items, Hummels, lots more.
OPEN HOUSE:  THURSDAY EVENING, AUGUST 3, 2023 5PM-6PM
AUCTIONEERS:
JIM CLINGAN 217-469-2500
GREG CLINGAN 765-793-7315